Do you want an ergonomic column staggered keyboard, but don't want a 3D printed or acrylic case? This is a good way to get the best of both worlds.
The fflx is an ffkb like layout, but is designed to fit in a standard 60% case. The reset switch, mounting holes, and USB port are designed to be aligned with these cases to allow you to have the flexibility to bring your own case into the mix.
Please note: after receiving some feedback, the fflx will have an issue with cases where the switch plate is recessed into the case. The picture below is an example of a case that will have this issue. If you can't see the switches underneath the keycaps, the bottom of the keycaps will hit the lip when pressed.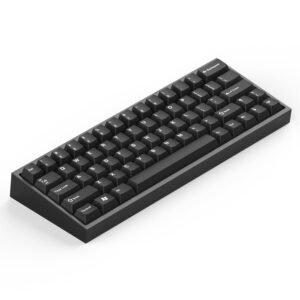 Now, on to the features:
Integrated stm32f401 or stm32f411 (subject to processor availability)
Underglow LEDs (WS2812B)
Supports both MX and choc v1 hotswap sockets
Supports the following additional features
All on board components are pre-soldered
To complete the build, you can add: